Thank You Masked Man
The Wacky Life, and Grizzly possible death, of Jimmy Ellis (aka Orioni Eckley Darnell) (Jimmy Ellis)
By: Gary Pig Gold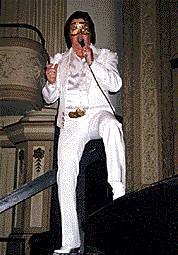 First there was Elvis. Amen! Then there was Ricky Nelson and Johnny Halliday. Perhaps even Conrad Birdie.

Of course P. J. Proby could often sing "movie Presley" ? and much later surely DO "Vegas Elvis" -- better than the true specimen, Terry Stafford hit U.S. Number 3 with an o.k. "Suspicion" during the very height of Britishmania (personally, I much prefer the 1970 Viv Stanshall / Keith Moon interpretation), and who can even forget Ral "This Is Elvis (sorta)" Donner and possibly even the Dick Clark-approved Ronnie McDowell? There was a real cool guy up in Toronto called Subway Elvis too, but he was always getting thrown in jail.

Then the real thing up and died circa 8/16/77, leaving the field extremely wide open indeed for any man, woman or child with access to an empty VFW hall and/or pair of Velcro sideburns to pillage ?n' plunder the once and forever King's ample musico-theatrical booty. You surely know who these thousands upon literal thousands of people were, and are. In fact, you may even actually BE one yourself. Well, my jumpsuit is off to you in that case ?particularly if you operate under the name of El Vez or especially Janice K.

Without a doubt though, the real-gone rockin' boppin' daddy-o of ALL such, uhh, "impersonators" was the one, the only Jimmy Ellis of Orrville, Alabama. But anybody reading this now should already know and love this man much better as, quite simply, ORION.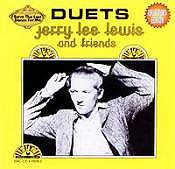 Although said cat had been sniffing around the showbiz nether-regions since A.D. 1964, it wasn't until E.P. himself took that one last plunge off his Memphis throne that Jimmy would actually be re-christened "Orion" (POSSIBLY from Gail Brewer-Giorgio's Elvis book impersonation of the same name), duly don the appropriately hideous face masks, and find himself signed to Sun Records (natch), only to soon begin popping up on a slew of bogus "Duet" albums alongside such ex-Sunsters as Charlie Rich and ? pause for reverent fawning ? Jerry Lee Lewis.
(I won't get into an aesthetic debate here and now over the merits of Jimmy-slash-Orion allowing his clandestinely dulcet tones to be dubbed atop any ol' Sun master that Sunmeister Shelby Singleton Himself could get his claws on in the as-immediate-as-possible aftermath of Elvis A(a)ron's demise. But let's just say even the sorriest piece of filler off these electronic travesties easily tops ANY of those lousy answer-machine tapes of Lennon's that the remaining Beatles tried to sell us awhile back).
Come 1980, this sonic ruse had succeeded to such an extent that Orion was voted as none other than one of "Cashbox" Magazine's top three male country vocalists in the world -- and this a near decade BEFORE Milli Vanilli, I'll have you know! That same year, no less than the Conway, Arkansas "Log Cabin Democrat" was hereby declaring, and I quote, "If you think you've heard Elvis sound-alikes, you ain't heard nothin' until you've heard Orion (pronounced O-Ryan)." As a result, people who actually knew better not only began flocking to his concerts, but were purchasing the man's newest gold-vinyl long-players in quite-alarming numbers. (By the way, duetting no longer, Jimmy was now cutting pretty darn respectable versions of "Ebony Eyes," "Susie Q," and even Ray Smith's immor(t)al "Rockin' Little Angel"? in fact, Anything and Everything EXCEPT Elvis songs. Good for him! In fact, check out his loose-goose version of Queen's "Crazy Little Thing Called Love," for a true taste of what it really means to bite the hand of the hand of the man what bit Sam Phillips'. Or something like that).

By 1983, like Gorgeous George and possibly even portions of Kiss before him, Orion suffered a bitter attack of the conscience, dramatically tore off his glittering Lone-Ranger-meets-Liberace face mask, and in a fit of artistic pique worthy of few others released the more-than-fucked "I'm Trying Not To Sound Like Elvis." File THIS particular career mis-step alongside Del Shannon's "The Further Adventures of Charles Westover," Gary Lewis' "I'm On The Right Road Now," and of course any solo recording by Pete Townshend.
It may have been ironic, but it was hardly surprising, that the minute Orion became Jimmy again the entire necrophilic-friendly Cult of Elvis suddenly became red-hot bizness and then some. Fake Elvii, the large majority of whom weren't worthy of polishing Orion's belt buckles, were now reaping untold millions selling tacos on TV and jumping out of airplanes in the movies, while the next-to-real-deal was languishing next-to-unheard-of in someone's Where Are They Now appendix.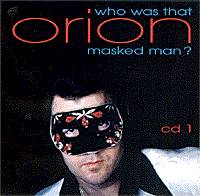 Little is of course known of Jimmy's subsequent "dark years." But then, what better an era (roughly speaking, the late Reagan / early Bush administrations) to seek lonesome refuge beneath the cultural shadows as it were? Strangely enough, while deep within this exile, interest had been somehow sparked anew in Orion's recordings, original pressings of which were now fetching mighty big bucks on the dreaded collectors' circuit. Why, the man was even blessed with his very own box-set courtesy of none other than the very hallowed folk at Bear Family Records! [and it's Highly Recommended Still: "Who Was That Masked Man?," a four-CD mega-retrospective, Bear Family BCD 16330. For all of us on a budget though, there's always the single disc "Some Think He Might Be King Elvis," Bear Family BCD 15548. The 1978-vintage "Reborn" album, Sun # 1012, is also worth grabbing -- if only for the cover photo depicting our hero rising prophetically from a coffin].
Perhaps sensing a faux-revival in the air ? or most likely just in dire need of some quick, easy cash to finally call his own ? Jimmy got his masks down out of the cupboard in order that he may bravely face the Nineties as, you guessed it, Orion Reborn. Again. "I AM Orion," he told the press in these latter years. "ONLY Orion. NOT Elvis. Never been to no Michigan laundromat either." Rat on!!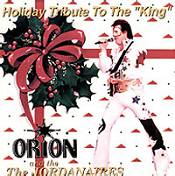 "If you SAY I sound like Elvis, then I sound like Elvis. To you. To ME, I sound like Orion." That may be, yet the man was now hiring no less than The Jordanaires to perform back-up duty, had begun touring alongside the likes of his old virtual-duet partner Jerry Lee, and was recording and releasing actual Presley material wherever and whenever the opportunity to do so presented itself. Really, all that seemed to be missing was a Christmas Comeback Special on NBC alongside Scotty and D.J.
Alas, twas not to be. For on the fateful afternoon of Saturday, December 12, 1998, three teenagers entered Jimmy's Pawn And Package Store outside Selma, AL., screamed for the cash register to be opened, then promptly opened fire. Jimmy's ex-wife Elaine, who happened to be visiting behind the counter that day, was struck in the face by a single blast and instantly killed. But it took three bullets to finally silence Orion, as he frantically tried crawling to safety behind a nearby computer. He'd just a week before given his final performance at the Nightlife Breakfast and Dinner Theatre, in the very town which had long been such a thorn in his artistic side: Nashville, Tennessee.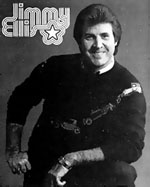 Some possibly-in-the-know (paging Shelby Singleton?) are already insisting Orion, and maybe even Jimmy Ellis, merely faked his / their own death in order that? well? you know. I mean, this exact career move surely worked wonders for Jimbo Morrison, to name but the second-most-obvious example. Back here on Planet Earth however, Jimmy's long-time manager and friend Art Thomas insists his pal never did set out to merely "impersonate" Elvis. He just happened to posses a voice that sounded exactly LIKE the guy's. Of course, this was both a blessing and a curse, and to his supposedly dying day "Orion" must have realized as much. "He was a very easy going person," Jimmy Ellis Fan Club President Kathy Hoffman recalls, before quickly adding "his career was important to him, and he was sometimes discouraged because he had so many ups and downs."
"In some ways, I don't mind being compared to Elvis," Jimmy confessed in one of his final interviews. "But I always wanted my own identity as an artist. The studios wanted only one Elvis, but if you have a voice that sounds like George Jones or Merle Haggard, that's OK with them. You hear country singers all day, and they got the Haggard and Jones sound, and they grow into big hat acts.
"But nobody wants another Elvis."
Odd indeed that, as no less an authority than Dr. Ken Burke-Iguana recently pointed out, both Orion AND Elvis both have albums called "Sunrise" out there now.
Orion's came FIRST though, for what it's worth. And it was on Gold Vinyl too.