7 Seconds
Good to Go (Side One Dummy)
By: Alex Steininger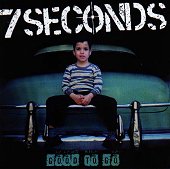 Formed in the early 80's, 7 Seconds has been a mainstay on the hardcore scene since then. Led by Kevin Seconds, the only consistent member of the band, 7 Seconds runs through hardcore as abrasive and powerful as it comes. They deliver a stark message in every one of their songs, sometimes with a melodic beat to back it up, and sometimes just full-on hardcore punk beneath their feet. Back on an indie, 7 Seconds prove once again why they've stayed true for nearly twenty years.

"Sooner or Later," the album opener, finds the band at their finest. They fuse melodic power with sheer backbreaking mayhem. The music is fierce enough to whip up the biggest frenzy, while catchy enough to make you want to sing along and dance with it. Of course, they keep it short and sweet, and with only a minute gone by, you're on to the next track.

This is the whole pace of the album: fast, action-packed, and plenty of music to grab a hold of. Just don't grab too tight, because before you know it a new song comes on and is ready to shake you around some more. "Best Friend" is a hardcore love song about having that special someone in your life to keep you from falling with equal parts heart and melody. Then there is "Change the Key," a hardcore number with plenty of "woo's" to help further the melodic side of the song. "I See You Found Another Trophy" tackles the subject of misuse and abuse of someone to glory yourself, in this case abusing a girl and using her as a trophy to make yourself feel powerful.

With sixteen songs racing through in less than thirty minutes, you'll be hard pressed to find a song that isn't loaded with intensity, sweat, and blood. These guys know what they're doing and do it well. Here is a hardcore record that is well rounded; strong lyrics and strong music help make it the complete package. I'll give it an A-.