A.F.I.
Black Sails in the Sunset (Nitro Records)
By: Alex Steininger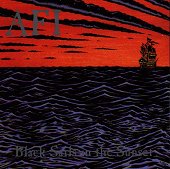 East Bay's melodic hardcore four-piece A.F.I. is back with another musically sound recording. The intensity and passion they put into their hardcore is amazing; the lyrics have focus and meaning while the music itself can be both very harsh or sweet and melodic, without losing the bite that makes it A.F.I. But, the vocals just didn't do it for me.

If they had different vocals I would have loved this stuff. The music is melodic hardcore with a kick in the ass, but the screech and cry of the vocals just didn't blend well with the fiery drive of the music. They both seemed to meet each other halfway and group from there, but with music this tight, it shouldn't have to compromise for the vocals. There were some good cuts on the disc that I could tolerate ("Narrative of Soul Against Soul," "The Prayer Position," and "Weathered Tome"). Not that they were anything different, because the vocals were the same, but the music seemed to accept them more and blended nicely, masking the imperfections of the vocals. But, the rest just weren't as lucky.

Their blend of hardcore is quite good, but the vocals just don't do the music justice. Under other circumstances I could really get into the disc, but with these vocals I just couldn't do it. I'll give the album a C.