VARIOUS ARTISTS
Hairball 8 Records Injects You With...: Keep the Beat (Hairball 8 Records)
By: Alex Steininger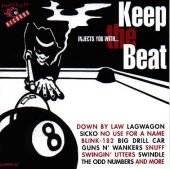 Hairball 8 Records mixes some of the top pop-punk bands such as Sicko, Blink 182, Parasites, Swingin' Utters, and No Use For A Name with lesser known punk acts like Joey's Race Car, Carter Peace Mission, Slowpoke, and Spazboy. The outcome is a less than thrilling pop-punk compilation.

For starters, the mastering on this album is horrible. The sound is mushy and even when the melodies are bright, the sound is often lost in the weak mastering of the final product. Sicko's "Believe" seems to be one of the only thrilling numbers on the album. Even standouts like Blink 182 and the Parasites can't stand out. They just blend into the mediocre-ness of the entire album.

The market is flooded with compilations and this disc is one of the reasons why. Too many run-of-the-mill discs with the same bands and themes to them. There are too many pop-punk compilations as it stands, and this doesn't do any for their reputations. I'll give this album a D.