VARIOUS ARTISTS
Punk-O-Rama 4: Straight Outta the Pit (Epitaph Records)
By: Alex Steininger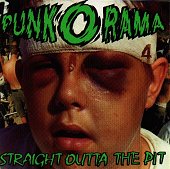 The forth installment in their label sampler series, Punk-O-Rama, Epitaph is back with another twenty-five track taste of what the label has to offer. From the classics like Bad Religion, NOFX, Pennywise, and Rancid, to recently acquired legend Tom Waits, the disc allows you to sample a lot of pop-punk on one album.

The majority of the tracks have been previously released, but if you don't have the album(s), or wanted to give a few artists a listen before shelling out the money to buy the album(s), then this is a good place to start. Rancid, NOFX, Bad Religion, Pulley, H20, All, and Ten Foot Pole all deliver solid pop-punk moments off of some good to great recent releases. Tom Waits helps shake things up too with "Big in Japan," off of his recent Epitaph release. The rest of the tracks, though, are your standard issued pop-punk.

Besides the relief Tom Waits offers, the abundance of pop-punk and melodic hardcore comes together and starts to blend into one after awhile. But, the strong songs on here by some of the best in the pop-punk game help keep things from falling too far down, and Tom Wait's golden track offers you relief before you start sampling more pop-punk. All in all, not bad for the $5 or so you'll end up paying for the disc. Worth the risk, I'd say. I'll give it a B-.