VARIOUS ARTISTS
Vans Warped Tour: A Compilation of Warped Music II (Side One Dummy)
By: Alex Steininger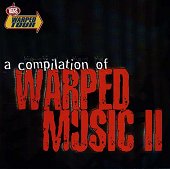 Each year, Vans puts on one hell of a traveling punk show with some of the best in the ska-punk, pop-punk, punk, and hardcore world. Artists like NOFX, Bad Religion, Pennywise, and Dick Dale have all played (some more than once). And, this year is no exception. Another great line-up of punk from bands like H20, Dropkick Murphys, Pennywise, 22 Jacks, Amazing Crowns, and Blink 182, just to name a few. And, in memory of each year's line-up, Side One Records brings fans a compilation of the bands that played each year. Now in it's second year, Warped Music II is a twenty-three track disc that will serve as a memory of the '99 Warped Tour, or a token of what you missed.

It's been a long time since I've heard new material from the Amazing Crowns. I can't wait for their forthcoming full-length (due out later this summer), so "Invitation to Alienation" gave me a dose of what is to come. Their hot rockabilly-gone-punk (or punkabilly) sound is as fierce as ever. It will make you want to dance, jump, and have fun, just like rock 'n' roll is supposed to do.

Pennywise's "Just For You," 22 Jacks' "Somewhere In Between," Riverfenix's "Speechless," and Blink 182's "Apple Shampoo" all serve up some great pop-punk full of hooks, melodies, and bouncy beats sure to rot your teeth just like sugar. But, this compilation isn't all sugary pop-punk. 7 Seconds ("Here We Go Again Kids") and Sick of it All ("Guilty") add intensity to the disc with some hardcore, sprinkled with a slight melodic touch to help it go down. But, don't underestimate it, because it's pure, heart-pounding hardcore that will floor you if you're not careful.

With the Vans Warped Tour in full swing right now, this compilation is a nice warm up for the show, or a disc that will help you ease the pain if the Warped Tour's already been through your town. Good punk all around. I'll give it a B.