Buzz Prophets
Kentucky (Tender Stone Entertainment)
By: Alex Steininger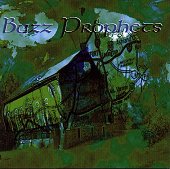 Buzz Prophets are that bad mix of funk, pop, and rock 'n' roll you fear each and every time you hit a bar. Do they have enough connections to get a coveted opening slot with your favorite band, or are they going to be playing some hole-in-the-wall club where you and a friend happening to be drinking that night? Simply put, they're a barroom rock band that has a driving force, but a sound that doesn't deserve one.

Modern rock is so cliched these days and bands like Buzz Prophets are the reason why. They are uninventive, stale, and seem to be content blending what has already been done. I like strawberries and I like lasagna, but if you put them in a blender and try to drink the outcome, it's not going to taste too good. And that is exactly what Buzz Prophets do. They take their influences, either good or bad, and blend them together to come up with a sound that just doesn't sound that good.

Just another one of the bands to add to the pile of bands that are making modern rock the disgrace it is. If you want to check out Buzz Prophets, do at your own risk. Their barroom sound just doesn't cut it. I'll give this album a D.