Elliott
U.S. Songs (Revelation Records)
By: Alex Steininger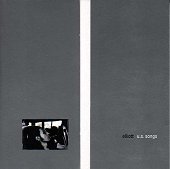 Louisville, Kentucky's Elliott are a four-piece emo band with hardcore tendencies. They can be very soft and emotional, drawn out and full of heart, or they can just rip into some hearty emo that boarders on hardcore. They're not afraid to wear their hearts on their sleeves just as they're not afraid to rock out and shock you with some magnetic emo.

On "Miracle," the band starts things off with some softer emo, though the rock beats and pumping rhythm that shines throughout their music is always present and pulsating. "The Conversation" shows them playing softer than normal, but even then they eventually bring in some intensity and pick things up. Then you have songs like "The Watermark High," which displays the band's hardcore roots along side some emo. They make strange bedfellows, but Elliott is able to pull it off, touching upon the harsher side of hardcore and the rock mayhem that accompanies it, while also staying true to their emo hearts. "Suitcase and Atoms," a very melodic number, and "Alchemy as a Rhythm" are two more reasons why this album works.

When they're playing emo they're not dreary or down in their own misery. They make their hearts visible, but still rock out enough to protect them from opening them up too wide. They know how much is enough and always seem to pull themselves back up with some hardcore and/or rock influences so they don't get too depressing or sad. I'll give this album a B+.