Face to Face
Ignorance is Bliss (Beyond Records)
By: Alex Steininger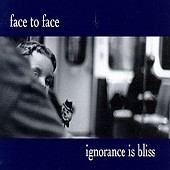 California's four-piece punk rock outfit, Face to Face, has gone in a different direction. Trading in the punk aggression and poppy-ness of their youth for more textured, rock-guitar driven melodies, the band's new direction is modern rock to the core. Where as in the past they had more in common with NOFX and Bad Religion then the bands clogging up modern rock radio, today they're just another one in a pool of standard issued modern rock bands.

They haven't given up on the punk drive altogether. It still shows its face throughout the album, but the heavy modern rock feel is abundant throughout as well, bringing the album down and giving it an all-too-common sound. Like the buckets of other bands on the radio which sound the same, Face to Face has begun to head that direction as well. Their songs don't sound the same, I'll give them that, but they're melting into the modern rock sea and distinction between the masses is hard.

Songs like "Overcome," "Burden," and "The Devil You Know (God Is A Man)" sound so stale and watered down, they just can't muster up any power to get a reaction. "Heart of Hearts" manages to find the band in a good position, but even it doesn't last. The band just doesn't hit the mark on this one.

I'll give them credit for feeling the need to change their sound and move in a new direction, but maybe this is just a transitional period and they'll come back with something powerful and energetic further down the line. I hope so, because this album is about as modern rock cliched as it comes. I'll give it a C-.