Loudmouth
Loudmouth (Hollywood Records)
By: Alex Steininger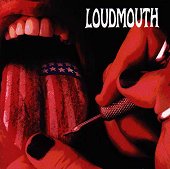 A four-piece from Chicago, Illinois, Loudmouth combines modern rock with metal to come up with an easy target for poking fun at. They're nothing clever, nothing new. Matter of fact, they sound so ready for modern rock radio its not even funny. They're your average metal band trying to be radio friendly.

"Fly," which starts out the album, begins with some racing drums, meaty bass, and catchy guitar riffs before the vocals come in with a cheesy metal yell and the "groove" is quickly laid down. The song transcends from a modern rock/power-pop number with potential to a fizzled out metal cliche.

The rest of the album should only have so much luck. It can't even hook you during any parts of the song. They don't have any flashy intros, no catchy choruses, or dynamite beats. "Not Free," "Maybe," and "Where Have We Gone," much like the whole album, all sound like weak, polished metal grasping for air, but not getting any.

Simply put, Loudmouth is nothing special at all. They won't even make you get up out of your seat to repeat one song. From track one to track twelve you'll be hard pressed to find anything original or mind blowing. I'll give this album a D.