Slipknot
Slipknot (Roadrunner Records)
By: Alex Steininger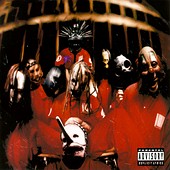 Slipknot throw curve ball after curve ball. I mean, they're from Des Moines, Iowa for one, they're a nine-piece heavy metal/hip-hop/hardcore band for another, and they dress up in costumes and put on one hell of a roller coaster ride from song to song. This isn't your run-of-the-mill band is what I'm trying to get at, and their second, self-titled album proves that.

"(Sic)" and "Surfacing" give you a taste of the band during their bloodiest, most aggressive stage. The screams, chills, and groove heavy percussion, not to mention jarring guitar and bass lines that will make you run for cover. Then there are songs like "Wait and Bleed," which possess a melodic texture along side the bone-crunching, powerhouse beats that surround every song. They have the ability to just let go and allow mayhem to take over or they can start screaming with a bloody chill before slipping in a melodic beat and making you bounce around in delight. This can also be found in other Ross Robinson acts (the producer responsible for Korn, Deftones, and Limp Bizkit to name a few). But, regardless if it was Ross' jagged-goes-melodic finger or the band's primal instincts, it's here, and that's all that counts.

With hip-hop/metal all the rage now, Slipknot couldn't have come along at a better time. With the market primed for these guys, I think they'll definitely be making a splash with this album. God help us all if this is true, but they may just be the next MTV buzz band. I'll give this album a B.