Dwight Yoakam
Last Chance For A Thousand Years (Reprise Records)
By: Alex Steininger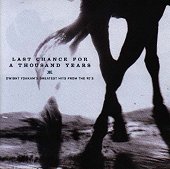 A big name in country circles, Dwight Yoakam has built up quite the reputation for being able to put forth country hit after country hit. And, on his latest, LAST CHANCE FOR A THOUSAND YEARS, Dwight puts all his hits of the 90's, including three new recordings, for fans to enjoy.

Freddie Mercury's "Crazy Little Thing Called Love" is the automatic standout on the album. It's rockabilly flavor mixes well with the Nashville pop structure and country touch to serve up one hell of a catchy tune. Preceding this track though ("Crazy Little Thing Called Love" end the album) are such other delights as "It Only Hurts When I Cry," "A Thousand Miles From Nowhere," "Sorry You Asked?"

The first few times I listened to the album I couldn't stand Dwight's voice. But, after listening to it a few times, it began to grow on me. There are some great country licks on here, but the majority of the album is Nashville pop (pop music posing as country), and it can be quite infectious if listened to in mass doses. So, after a few times through, it began to grow on me, like good pop music should, and I began to even get in to it.

"Greatest Hits" albums can be quite fun, or extremely dull, depending on whether or not you like the artist or not. At first I thought this was going to be quite dull, but once you spin it a few times, you'll really get in to it. Dwight has a sweet knack for coupling pop music with country roots, a lethal combination, at least here. I'll give this album a B.