The Mix Mob
Four Song Demo CD (Self-Released, Phone: 619-502-1360)
By: Alex Steininger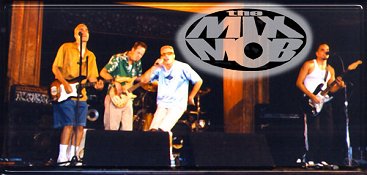 Taking reggae, ska, funk, and some pop, and turning it in their own, California's The Mix Mob reflect the sunny land in which they hail from. Their sound is warm and vibrant, happy, danceable, and relaxed. It's just like sitting on the beach on a warm summer day, with the cool water nipping at your ankles as you sit there, stereo blasting, talking with friends, and having a blast.

The reggae seems to be their center focus, but the ska, an ancestor of reggae, shows its face now and then. And on the forth cut, "The Flipside," the funk is in full force as the band shakes the ground on which you're walking and gets your legs moving with a friendly funk groove.

Though, the fact that this is a demo needs to be taken into consideration. The recording isn't the best, mastering needs to be done for the songs to jump out of your stereo, and the band does need to work some more tightening up and growing in their sound. But, as it stands, they must be one heck of a live band, and time will help them melt their influences together to get the most bang for their buck. Definitely a band to keep your eyes on, though. I'll give this a C.