Ron Sunshine & Full Swing
Straight Up (Royalty Records/Daddy-O)
By: Alex Steininger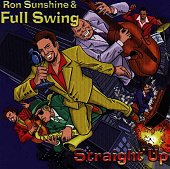 Ron Sunshine & Full Swing pour out jump-swing grooves with passion for rock 'n' roll, R&B, soul, and even some funk running through their veins. Raised on a healthy dose of a variety of different musical flavors, Ron Sunshine leads his band through jazzy, loungy, stomping swing music that is all about dancing, having fun, and adding some lively music to your life.

"Enough For You," the album opener," is all about clapping your hands, stomping your feet, and swinging with the jazzy beats that are put before you. "Hit That Jive Jack" is much like the opener, but instead of plowing through with jumpy beats, the back decides to focus on jazzy, lounge-swing instead, making sure the rock 'n' roll is always present to keep things lively. Ron's smooth cocktail voice drips throughout, adding both warmth and comfort to the music, but also a clown demeanor as he keeps dancing around you trying to get you to get up off your butt and onto the dance floor to have some fun. And, of course, with his back band, he is able to do just that.

"She Won't Believe" slows things down ever further as Ron Sunshine and company give you a number for you and your loved one to sit back, slow dance together, and enjoy. The rock 'n' roll takes an exit as the lounge comes full circle and takes control. The soft, melting horns butter up the song while Ron's voice adds a creamy texture. The velvet feel of the song rolls off your ears and dances around in your body and you fall in love all over again. Gentle and peaceful, it will make you look your loved one right in the eyes and realize why you love them so much.

"Tid Bits" and "Undecided" put the rock 'n' roll tapping, jump-swing groove back into play as you once again hit the dance floor, start moving, and sweat a sweet sweat as you enjoy the music to the fullest. Note for note, word for word, and feeling for feeling, Ron Sunshine has you enjoying every minute.

Ron, an accomplished songwriter, also spends time in an R&B/Soul band, which bleeds over into the swing music, and its all for the better. His version of swing is rock 'n' roll intense, filled with passion, and nestled between many influences which make it as rich as it is. I'll give the album an A-.