Skavoovie & the Epitones
The Growler (Shanachie)
By: Alex Steininger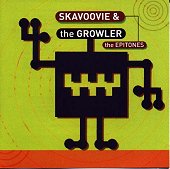 Boston's Skavoovie & the Epitones are a ten-piece ska band whose influences are as diverse as the individuals who make up the band. Their sound embodies a rich ska, jazz, rock, and even some swing textures. Whether it's the smooth organ sliding through the songs or the bright horns lighting up the song, the band always stays true to the beauty of ska and jazz, but takes the songs to new heights with their touch.

"Boyo" has a traditional ska stomp, but the horns get jazzy, taking the song in two different directions, and meeting at the intersection. "Soul Searcher" adds a slightly funk-soul tint to their ska-jazz sound. Smooth horns set the foundation for the song while the band carries on with an infectious, danceable groove. "Tiny Machines" shows more of the band's rock side. The guitars get heavy and distorted, adding some punk as well to the song. A bit quirky and tangled, the song seems to catch itself in a web before pulling out through the help of the horns.

If that wasn't weird enough, the "Zombie Song" shows yet another side of the band. This time they're kicking back and having a blast, fooling around, and creating a laughable song with a danceable beat. The song isn't as smooth or lovely as their others, but that seems to be the idea. Each instrument has their own idea of where they want the song to go, but are still able to play as a collective.

"Foster's Ghost (theme)" brings back the stomp and dance groove this band is built around while "Any Which Way," the final track on the disc, decides to slow things down and gently fade away with a beautiful slow dance number.

When these guys are on the mark, they're on the mark. Smooth jazz over infectious ska, they have a combination sure to win smiles. And, still young, they only have room to get better, which is scary, because they're already so tight. I'll give this album an A-.