VARIOUS ARTISTS
Reggae On The Rocks - Voodoo, Sacraments, Oddities, & Other Holy Anthems (What Are Records?)
By: Alex Steininger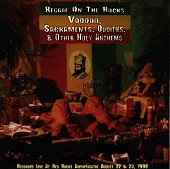 A third in a series of live recordings representing the best of Morrison, Colorado's Reggae on the Rocks annual festival. Not only are the recordings great, but some of the best in the world of reggae are represented on this disc. Legendary Reggae artist Justin Hinds & The Dominoes, Boukman Eksperyans, Majek Fashek, and Long Beach Dub All Stars (featuring the remaining members of Sublime) all help make this compilation a reggae experience you'll never forget.

Long Beach Dub All Stars' "Astro Dub" opens up the album. Now, it may not be the punk-ska-reggae fusion that Sublime made so familiar, but its reggae dub sound is unmatchable. The band knows how to write solid songs; the vibes are plenty, and the groove is never ending. Following them is Justin Hinds & The Dominoes with "Teach The Youth." More ska than reggae, they take you back to reggae's roots with a traditional ska groove that is both melodic and sunny. You'll be dancing within no time to this one, that's for sure.

Justin Hinds & The Dominoes' "Let Jah Arise" gives you a taste of their reggae styles, which are also just as impressive. The rhythm section is unstoppable, pulling off some of the best Jamaican grooves you'll ever hear, while the vocals are sweet perfection. Majek Fashek's "Majek Beware" is another fine example of how reggae should be played. Hailing from Nigeria, Majek Fashek's Jamaican sounds will get you dancing from beginning to end.

You know, listening to this album makes me wish I were at this reggae festival. Heck, it makes me want to fly to Morrison, Colorado and check out this years festival which will take place on August 21st and 22nd. Here is a great starting point for anyone interested in getting into reggae, as well as a disc any reggae fan should own. I'll give it an A-.