Nynex
Zerozero (Offworld Music)
By: Alex Steininger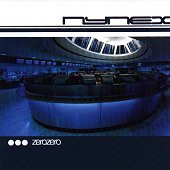 Nynex is an underground electronica sensation quickly climbing the ranks and making a name for themselves as they head towards mainstream goals. Josh Atchley, the man behind Nynex, writes and produces all his music to bring the beats to life. And, his vision comes full circle on their Offworld Music debut, ZEROZERO.

Electric, enticing, and fueled by a mad passion to dance, album openers "Questionlife" and "Rev" shoot through your body with a wild, vibrant assortment of colors that seep into your brain and sent you on an acid trip from heaven. The music is provocative; it's juicy cycle of quick rhythms and quirky vocal mixes sweep through the ears and blow your mind. "Facetoface," "Star," and "24houres" are just a few more examples of the powerful songs on this disc.

One listen is all it takes. From there on out, the drug known as ZEROZERO will invade your mind and turn you into a fan. The music is too intense to not want to dance and rave too. Here is acid in a musical form. I'll give it a B+.