VARIOUS ARTISTS
Punk Rock Jukebox Volume II (Blackout! Records)
By: Alex Steininger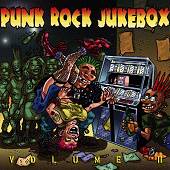 Punk bands covering punk bands that influenced their sound is what PUNK ROCK JUKEBOX VOLUME II is all about. Kid Dynamite, Samiam, Dropkick Murphys, Kill Your Idols, The Ducky Boys, The Boils, and Anti-Flag, along with nine other bands (sixteen total) contribute tracks to round out this "jukebox".

Samiam's "Search and Destroy," an Iggy Pop and the Stooges cover, is at the top of my list on this album. Though, it doesn't change anything that drastically, or come close to topping Iggy and the Stooges version, the fact that it's "Search and Destroy" from RAW POWER does it for me.

Lars Frederiksen, of Rancid fame, makes Dropkick Murphys' cover of The Nips' "Vengeance" another favorite of mine. Blood for Bloods' "All This and More," a Dead Boys cover, Yuppicide's cover of The Specials "Concrete Jungle," and Anti-Flag's version of "What About The Lonely?", originally done by Sham 69, are all good listens on this album, too. And who can forget The Enkindels' cover of the Billy Idol classic "White Wedding." Of course, not nearly as good as Billy's version, you can't lose with a new wave classic, or covering Billy Idol for that matter.

Though, punk bands covering punk bands often leaves little room for change or new ideas to flow, the bands on here do a good job of covering their punk classics. And the addition of covers of The Specials and Billy Idol help spice up the disc, too. I'll give it a C+.