Yongen
Floating World (IGI Records)
By: Alex Steininger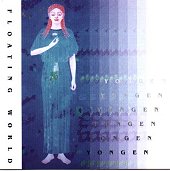 Yongen is a mixture of drum & bass, ambient, electronic pop, and acoustic ethnic music from a Japanese songwriting/production unit (Toshio and Chieko Kamei). On their debut release, the two not only explore themselves musically, they also explore the world spiritually through music.

The album could not be more appropriately titled. FLOATING WORLD is exactly that; a world of floating musical textures that take you away into another mindset and take your mind on a floating journey through the music's color. "Science of Farewell" is a mist of dripping percussion wrapped around windy vocals while "Beauty" is a musical ocean of waves, breezes, and life that goes up and down in a slow-moving, calm motion. Then there is "I'm In Love," an enchanting, delicate composite of trickling acoustic guitar over the soft howl of the vocals.

The music is bigger than the sum of all its parts. It incorporates drum & bass, ambient, electronic pop, and acoustic portions into one full, rich sound that, though you could pick apart and label its pieces, sounds complete and property pieced together rather than jumping from one style to the next. I'll give it a B+.