VARIOUS ARTISTS
Asian Man Records Presents...Mailorder is Still Fun!! (Asian Man Records)
By: Alex Steininger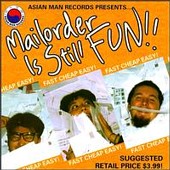 Asian Man Records, formed and operated by Mike Park (ex-Skankin Pickle, B. Lee Band, The Chinkees), has always been ran on the do-it-yourself mindset. Mike works out of his parent's garage, has two friends who work full-time for the label, and sells all CD's for $8ppd through the mail. Of course, with dedication like that, its no wonder why so many people have mailed him, e-mailed, and even called him with messages like "Thanks. Without your prices, I could never afford music." His dedication and sincerity is unmatchable. And, with his low prices for CD's, everyone is always wondering what his latest signing sounds like so they can order their music and enjoy it at home. That is why he is releasing his second compilation, MAILORDER IS STILL FUN!!, a follow-up to MAILORDER IS FUN!, a compilation that gives fans a chance to sample all the bands on the label and to introduce themselves to new music. Oh, and so they can be aware of mail order and its importance in Mike's do-it-yourself world.

The Chinkees serve up some poppy ska on "Big World," Dan Potthast offers up a hilarious camp fire sing along on "Where's Teddy?," The Broadways throw some political punk your way on "The Kitchen Floor," and Less Than Jake gives you some ska-core on "Big." Of course, other acts like Slow Gherkin, Johnny Socko, Unsteady, and Big D and the Kids Table help add ska into the mixture. Then there is Alkaline Trio and Tuesday giving us some emo; Korea Girl with some good indie rock, and Mike Park with some folk-pop (just him and an acoustic guitar) on "Korea Is So Far Away." Other acts like Blindspot, Knowledge, Slapstick, Pushover, Link 80, and MU330 (to name a few) help round out this twenty-eight-track disc chalk full of your Asian Man favorites.

If you're a fan of Asian Man Records or any of the bands mentioned above, you'll really enjoy this compilation. Heck, try something new and support this true blue indie label. There isn't much more to say, the music speaks for itself. I'll give this a B.