VARIOUS ARTISTS: Holiday Matinee
Pedal Faster Bicycle Rider (Accident Prone)
By: Alex Steininger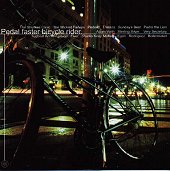 Holiday Matinee is a publicity firm that deals with a variety of indie rock/emo bands. Taking their job one step further, they went ahead and compiled a collection of material from all the artists they work with, got a record label to agree to put it out, and released this album to promote their entire client base to not only the media but the public too. How clever is that? I know it's one idea I wouldn't hesitate to rip off (sorry Dave, it's just a really good idea).

The Shyness Clinic start things off with "Barcelona to Madrid," a rocking, driven emo number that trades off between frail emotions and all out bursts of energy. Pedro The Lion's "Letter From A Concerned Follower" is a slow-moving, soft, laid-back tug on your emotions. "Adam Voith's "The Minor Rock Star" is a distant, Electro-pulsating, spoken word number. Tugboat Annie keep things tapping with their poppy-emo on "Contact." Then there is Jejune's "Fix on the One," a subtle, sparkling emo number that is light and delicate, but still has a rock pulse beating in the middle of it.

Author Adam Vioth offers up two more Electro-spoken word pieces with "The Minor Rock Star II" and "The Minor Rock Star III." Pedro The Lion also offers up a live cut of "Criticism as Inspiration," another slab of emotional output from this strong, tender, and compelling emo group.

As a concept compilation, it is one of the best I've seen as of late. Its got a good reason behind it and strong bands that crop up backing it up. The music doesn't always journey past the typical emo format, but, for the most part, the bands shake it up enough and are distinct enough to keep things interesting. Its a well-rounded idea and deserves some applause. I'll give it a B.