Love As Laughter
Destination 2000 (Sub Pop)
By: Alex Steininger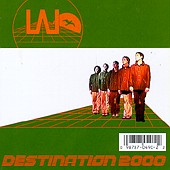 Seattle, Washington's Love As Laughter, fronted by Sam Jayne, drive home their message through pounding rock mayhem. A high-powered lo-fi indie rock sound, amped up twice over with a big avant-garde feel, their sound is layers upon layers of noise brought together with a distinct melody.

Through all the yelling, screaming, soaring guitars, clattering rhythm section, and general chaos, it is hard to tell just what is really happening with the music. Sure, there is a melody you can follow, there is song structure, and there is plenty going on. So, realistically, it is easy to follow. But, it is the chaotic noise and confusion brought forth from the avant-garde quality of the album that loses the listener in the cracks, allowing the complexity to get the better of it. And, due to this, the album went in one ear and out the other, never providing a hook or anything to snag my ears on to keep me listening.

For some, this might be their thing. But, for me, there just wasn't anything that really blew me away or made me take notice. After several listens I gave up, because I just don't get it. I'll give it a C-.