VARIOUS ARTISTS: Hellcat Records Presents...
Give 'Em The Boot II (Hellcat Records)
By: Alex Steininger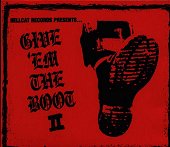 GIVE 'EM THE BOOT, the original Hellcat Records compilation, had to be one of the best compilations ever released. So, it's no surprise that the label co-founded by Rancid's Tim Armstrong and Epitaph's Brett Gurewitz once again releases a prized twenty-one song disc with the best in punk and ska, including Rancid, Dropkick Murphys, Hepcat, Joe Strummer, David Hillyard Rocksteady 7, and The Slackers.

Hepcat's "Riding the Region" finds the rocksteady/ska outfit at their best with some tender, highly danceable ska rhythms that are so smooth and lively, you can't help but fall in love. Then Rancid kicks your ass with "If The Kids Are United," a cover song that finds the band ripping through some of their trademark 77 style punk rock. Then the Pietasters get the party dancing again with "Can't Stand It," a funky rocksteady/reggae number sure to make you want to hit the dance floor and groove to the tunes.

U.S. Bombs' "Goin' Out" gets your blood pumping with some melodic, shit-kicking, unforgettable punk mayhem. The Distillers' "L.A. Girl" places screaming female vocals on top of just as loud punk rock. Then Joe Strummer takes control on "X-Ray Style," an acoustic Afro-Cuban groove that is just as powerful as the previous tracks, but less in-your-face and more controlled. Of course, no Hellcat compilation would be complete without The Slackers. On "Have the Time," the band dishes out their usual, lethal mixture of soul and dance. Then other bands like Choking Victim, F-Minus, and Rancid kick out more punk rock to cut your teeth on.

Not as good as the original, though GIVE 'EM THE BOOT II still is a damn fine compilation that is priced to sell ($4.99). You can't lose here. I'll give it a B.