Golden Delicious
Live At The Laurelthirst (Cavity Search Records)
By: Alex Steininger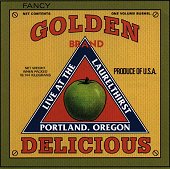 Now defunct, Portland, Oregon's bluegrass champions Golden Delicious are sorely missed by all the fans who enjoyed their albums, and especially their amazingly energetic and not-to-be-missed live shows where the songs came alive, taking on a life of their own and acting different each time they were performed.

Fronted by Portland rock legend Pete Krebs and folk notable Kevin Richey (aka Bingo), Golden Delicious were the genre-crossing bluegrass band that had punk rockers, blues fans, pop fanatics, country aficionados, and every other fan of any given genre at their shows. They could always been found singing along, dancing, and winding down after a long workday to the memorable sounds of this band. But, do to other projects, the band's life was cut short. Though, their record label, Cavity Search Records, and their fans, saw the need for a live album to write the final chapter of this band's history, going out with something for everyone to remember them how they knew them best - live.

The outcome is Live At The Laurelthirst , recorded live at the band's stomping ground, where you could find them on any given night playing to a thankful, appreciative crowd who completely fell in love with them. Covering the band's short, but productive life, Live At The Laurelthirst contains twelve cuts from the band's collection of punk-rock inspired bluegrass, including both covers and originals.

The Jim Boyer penned "Another Night," which also makes its way into frontman Pete Krebs' solo set quite often, finds the band stomping through vigorous, rhythm heavy bluegrass excitement. And Richey's "I Truly Understand" finds the band dancing through tingling banjo notes, a hot fiddle, and the always amazing guitar licks of Krebs.

No live bluegrass show would be anything without a cover of the bluegrass grandfather himself, Bill Monroe. "Body and Soul" lets the fans a chance to breathe as the speed is dropped down and a slow, steamy cut full of harmony replaces the hot, stomping speeds of the majority of the tracks.

Of course, it's the speed, dance-ability, and the infectious melodies that Golden Delicious strive at, as on Krebs' "Alabama Carmody," a hot-footing number that has as much rock 'n' roll and pop roots running through it as it does bluegrass and country. Though, Krebs' bluegrass and country blood is always present, kicking the song into high gear and giving fans plenty to dance about.

Listening to this album just makes you realize what a great band Golden Delicious truly was. They had the diversity and songwriting talents to be so much more than another bluegrass band. They're style was ahead of their time (and still is) as they took rock 'n' roll and bluegrass where it's never been before - to the battlefield where it ends up being best friends. I'll give this an A+.