Litter & The Lazy Sleepers
"Ruff 'Nuff?" [Cassette] (Litter-Dittmar)
By: Gary Pig Gold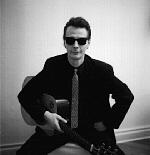 In the grand tradition of Power Trios past (anyone remember The Pirates?!) to present and beyond, Europe's legendary Lord Litter, long a proponent of r'n'r's DIY ethic, takes time out from selflessly championing all his friends' bands via his Radio Marabu network to make some music of his own.

The result? This seven-song cassette, happily, unapologetically crammed with the kind of meat and potatoes, heavy on the snare and bass R-A-W-K which is unfortunately becoming something of a rarity here in its homeland (ie: when's the last time you used the word "boogie" in a non-disco fashion?). Well, America's loss is certainly the Litter's gain, as one listen to his snotty version of that age-old workhorse "Bony Moronie" will atest: these Sleepers surely got no time for political messages, clichT-ridden stylings, self-conscious prumping or dime-store posturings in any way, shape or form. And that's one hell of a welcome relief to these ears at least.

So let down your cool, pull up a brew, and simply, pimply bask in the hearty musical heap Litter and crew have thoughtfully thrown your way on this certifiably pretention-free frolic in sound. You know BTO surely would've wanted it that way!