Trudy Lynn
U Don't Know What Time Is (Ruf/Platinum)
By: Alex Steininger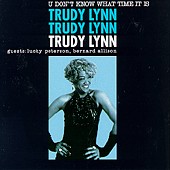 On her seventh solo album, Trudy Lynn sends out the blues and soul with plenty of funk to help it along. Her first album for Ruf Records, U DON'T KNOW WHAT TIME IS, is an energetic, soulful piece packed full of powerful vocals and tight grooves.

"Shake Rattle N' Roll" is a simmering funk piece that finds this diva's pipes singing with all they've got. The title track finds the funk at its boiling point, as her band whips out the grooves and her voice tops it off with plenty of soul and grits. "Ace In The Hole" tones it down while she reaches deep in to her soul to pour out tender, organ-drenched soul music that fills you with love and finds your smile a mile long. "Time Is Running Out" is another big, bold soul number that will leave you with no doubts as to Trudy Lynn's vocal talents. Her pipes pack all the power you're ever going to hear into loud, soulful bursts. And, when she wants to send out the love vibes, she can simmer down and create the smokiest soul you're likely going to ever have the pleasure of hearing.

Trudy Lynn is an underrated soul diva, and this album is a testament to that. She has the vocals, the vision, and the backing band to be the soundtrack to your passionate evenings. Her is an album with the soul that will burn in your soul and the funk to shake things up and get your body moving. I'll give it an A-.