Bane
It All Comes Down To This (Equal Vision Records)
By: Alex Steininger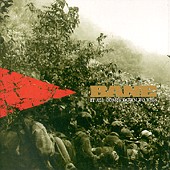 Hard-knocking, enthusiastic, and energetic, Massachusetts' hardcore outfit Bane rips through meaty punk-induced hardcore so naturally, it's clearly evident they were born to rock. On their debut full-length, the band has music, will travel. Kicking and fighting every step of the way, IT ALL COMES DOWN TO THIS is a teeth-grinding blast of fury you won't soon forget.

"Fuck What You Heard" boils the blood with its heated aggression and tension-building vocals and rhythm section. "The Paint Chips Away" keeps up the furious drumbeats, roaring guitars, soaring blocks of bass, and from-the-gut vocals.

The entire album is blow after blow of gut-wrenching, true-to-the-scene hardcore that would fit in in every hardcore scene across America, and become a staple at that. I'll give it a B.