Cro-Mags
Revenge (Cro Mag Recordings)
By: Alex Steininger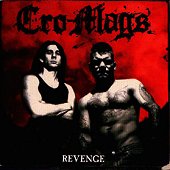 These days pop bands disguise themselves as punk bands through anger and political lyrics. But, one listen to those types of bands and it's quickly established they're anything but punk. Punk's not dead, though. There are still a few bands out there breaking teeth, spitting out contempt with so much fury and anger it makes you want to run and hide, and crushing guitar blows and splitting rhythms. On their third full-length, The Cro-Mags establish they're exactly the kind of band needed to put the thump back into the sound known as punk.

"Premeditated" just won't give in to anything, pushing forward with a thick, whiplash paced rhythm section and demented metal lead guitar. Hardcore even plays into their style, as the vocals scream and shout in tradition of the best hardcore.

"My Life" is a straightforward punk assault. A fierce melody ties into the song, but it's all aggression and spite that drive the song, as is true on "Without Her," another kick-in-the-ass assault of punk fucking rock that will hook you while breaking you in two.

"Open Letter" and "Steal My Crown" are just two more examples of how punk rock is supposed to be: uncompromised, pissy, angry, and fast as can be. This is skull crushing, mind-blowing music at its best.

Metal and hardcore find their way into the sound, but it's punk from start to finish. Not your pansy punk, either. No, this stuff will definitely knock you on your ass. I'll give it a B.