AM/FM
Audiot (Skylab Operations)
By: Alex Steininger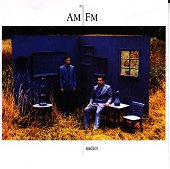 Brian Sokel, most notably from Philadelphia, Pennsylvania's Franklin, like many other musicians, had visions beyond what one band was capable of (in terms of sounds and styles). So, he started his solo side project, AM/FM, which evolved into a full-time collaboration with Michael Parsell. Additional friends and musical peers helped fill out the rest of the instrumentation in the studio. Going in with only song frames, rather than completed songs, Sokel transformed the songs as he put them to tape and orchestrated them into what they became on AM/FM's debut EP, Audiot .

"The Death They Claim" pairs up haunting lyrics which can be seen in so many lights the listener is compelled to translate their meaning of them, while the lush, absorbing pop melodies dance around in your head. "We Will Study Your Life" jitters with excitable rock, moving swiftly, while still engaging you in the same potent pop melodies that found you on "The Death They Claim." Then there is "Neverever," a charming, bouncy pop ditty that slowly unravels, hooking you even more with every step you walk with it.

Audiot is a compelling pop album, one you won't forget after listening. The hooks are enjoyable and refreshing, tipping the scales with more substance than flash, and always remembering to give the audience what it wants before anything else. I'll give it a B+.