Crazy Mary
She Comes In Waves (Humstring Records)
By: Alex Steininger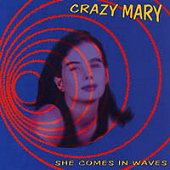 The music isn't that captivating, but the story behind the band is a rare mixture of real insanity, a vision, and common interests. Lead singer/guitarist Richard Morbid works at Belvue Hospital in New York City. Moving away from New York City, he got work at another insane asylum, met a member, moved back to New York City (and got his old, and now current, job back) and met more members - including patients of the hospital. Which, helps explain the craziness and psychedelic frenzy running through the music.

On their second full-length, Crazy Mary mixes wicked psychedelic vibes with pop-rock structures. Though the music often suffers from its own craziness, the band does offer up moments of enjoyable pop-rock, such as "City's On Fire," "Talking To Wendy," and "A Little Faith."

The band has a very interesting story. I'll give them that. But, the music, more often than not, just doesn't strike the same kind of emotions. The songwriting promise is there and the varied influences show the band is capable of diversity. Though, until they learn to control their schizophrenic tastes, the music will suffer. I'll give it a C-.