The Kennedys
Evolver (Zoe/Rounder Records)
By: Gary "Pig" Gold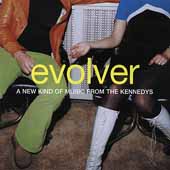 While their fourth album is boldly subtitled "A New Kind Of Music From The Kennedys," Evolver isn't so much a shocking, ground-shattering departure as it is simply a wholly realized sonic maturation of this duo's carefully refined, lovingly defined pop canon. Why, even the most cursory of listens to the nouveau-Appalachia of "If I Weep" and "Down Down Down" demonstrate that while the ambiance and garnishings may be bright and newly fangled, Pete and Maura Kennedy see to it that their songs honestly do remain the same throughout most of this fine record's fifty minutes.

Certainly fun, snappy, guitar 'n' snare Pop is in gorgeous abundance, especially on the opening wallop "Pick You Up" (Buddy Holly by way of Pete Ham!), not to mention "Keep The Place Clean" (co-written by Bill Lloyd, need I say more). Nash-pop overtones flower brightly as well on the delightfully anthemic "Can't Kill Hope With A Gun": now, this is PRECISELY what New Country (Radio) should sound like (if only, in this case, the N.R.A. might turn a blind ear). Absurdly apt under-pinings of retro-exotica swirl beneath several other tracks elsewhere, most effectively on the Tut Taylor / Austin Powers, I kid you not, "Good Morning Groovy." Why, it's hoe-down! No, it's a frug-fest! Stylistic barriers? Evolver has, you see, made melodic mincemeat of them all.

And while nit-pickers may just be able to locate a semi-indulgent sidestep or two (perhaps in the B-side-of-some-foreign-E.P.-worthy-at-best "Mr. Lucky Man"), rest assured Maura's vocals have never sounded so twi-lit assured, Pete's wall-of-guitar arrangements have never reached such shimmering heights, and most importantly of all the pair's song-writing, especially lyrically, has NEVER rung so finely tuned and positively true. If Evolver is, then, meant to be one of those there "transition" albums, then The Kennedys are surely now en route to some downright dizzying destinations indeed!