Wild Colonials
Reel Life Vol. #1 - A Collection of Wild Colonials Film Music (Chromatic Records)
By: Alex Steininger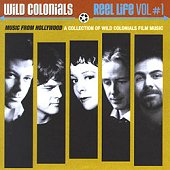 With two full-lengths on Geffen Records (1994's Fruit of Life and 1996's This Can't Be Life ), Los Angeles' eclectic Celtic-rock-folk-jazz melting pot Wild Colonials have established a nice-sized fan base on a national level. On top of that, they have contributed songs to several films. Hence their third full-length, Reel Life Vol. #1 , a collection of songs that have popped up in films throughout the years. Guest appearances by Shudder To Think, Cyndi Lauper, and Dr. John help enrich the album.

From the Colonials ballad rendition of Tom Jones' show stopper "It's Not Unusual," through the pop-folk rumble of their contribution to Inertia ("Friend"), to their cover of the Grateful Dead's "Brokendown Palace" for the movie of the same name (though, due to sync rights it never appeared in the film), the band proves they have depth and versatility, a rare combination in modern music.

"Cure," from the USA Network's upcoming film Cabin By The Lake , is a seductive, steamy twist of pop and slight jazz, while "Day Ditty," written by Shudder To Think and featuring Colonials frontwoman Angela McCluskey, is a slow, melancholy rock beat placed under McCluskey's beautifully positive voice.

Reel Life Vol. #1 demonstrates why the Wild Colonials have appeared on several movie compilations. Writing poignant, touching music in a variety of styles, the band can fit almost any climate and make it work. I'll give this album a B+.