VARIOUS ARTISTS: Virgin Voices II
Tribute to Madonna (Cleopatra Records)
By: DJ Dysdynia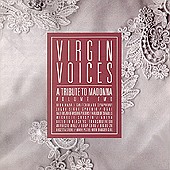 Virgin Voices 2, is Gothic industrial artists covering, of all people, Madonna. Cleopatra Records pushing the envelope, and throwing oil and water together hoping for some success.

To begin, Virgin Voices 2 is much better than the debut Virgin Voices 1. Even with the odd matches between the Material girl's tracks of stardom and the offbeat artists, Virgin Voices 2 bats a higher average then expected.

The CD starts with Ofra Haza (think female on "Temple of Love" by Sisters of Mercy) caroling "Open Your Heart." Ofra has a beautiful voice and the song is remix extremely well by Die Krupps, but "Open Your Heart" seems unfitting to her voice, and the tempo was just a little to fast. Nevertheless, the song isn't bad, but it takes a bit to get use to. Possibly, what will be the most popular track on the CD is Switchblade Symphony doing "Lucky Star." The girls pound out some humming and a slow rhythm to turn a teenybopper 80's tune into a sexy, fluid, fun song. Another winner on Virgin Voices 2 is "Erotica" by Razed in Black vs. Transmutator. Rommell (Razed in Black's main man), remixes it to a slow, sensual, lullaby. Other good tracks are Rosetta Stone performing "Rain," Mephisto Waltz doing "Skin" Bigod 20 "Like a Prayer" and Ogre (yes, of Skinny Puppy) reconstructing "Borderline." Tracks like Dale Bozzio of Missing Persons doing "Into the Groove" and Sigue Sigue Sputnik blaring "Ray of Light" are diversity to collection and make interesting pieces.

The association as Madonna cover tunes may help or hurt the success of Virgin Voices 2. Even if Madonna hadn't sung these songs first, I believe this CD would still remain an innovative and contemporary on it's own. Listen to it because it will blow your little narrow mind and then buy it because even though it has Madonna in the title, it is still a compilation that shouldn't be missed.