BOOK REVIEW: Father of Rock & Roll
The Story of Johnnie "B. Goode" Johnson (written by Travis Fitzpatrick)
By: Alex Steininger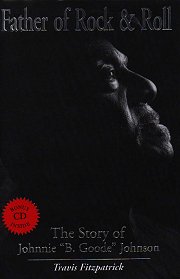 You've probably heard the Chuck Berry classic "Johnny B. Goode," but do you know the story behind it? I didn't, until I sat down and read Travis Fitzpatrick's Father of Rock & Roll: The Story of Johnnie "B. Goode" Johnson . Included in this masterpiece is not only the story behind the music - the greed, the partnership gone sour, the obscurity that never turned into the fame it should have, and everything else that only made Johnnie Johnson stronger - but, the music as well. At the end of the book you'll find a fourteen track CD that captures the signature piano playing of Johnson in full force.

Except for three tracks, all are original versions recorded especially for this book. Hear Johnson's piano swelter on the classic "Johnny B. Goode," as well as on other Chuck Berry favorites ("Maybellene", "Wee Wee Hours", and "School Days" to name a few). Hear it as they were always meant to be - the piano up front and alive, un-compromised and in full glory. Nothing is hiding behind roaring guitars or someone else's voice. And nothing is mixed down to act as only an accompaniment to the arrangement. The piano is the lead.

The disc is a favorite, with an explanation of the song and its history explained prior to each song by Johnson himself. Insight and knowledge into the song enriches, while the music speaks for itself once it comes on and soars from there.

But the music is just part of the package. The book is the main attraction here as Fitzpatrick (who started writing this book in 1995 at the age of 19) delivers a clearly entertaining, fascinating, and well-written documentation vital for any rock 'n' roll fan, historian, or individual with curiosity into some of the most important, yet obscure details on the music that swept and nation and kept it on its toes for over four decades.

As for some insight into Johnson's outtake on life, a former co-worker had this to say about him in the book: "'As I said,' Harris continues, 'Johnnie never mentioned anything about his music. But after a while, some people around the office who were into the local music scene realized who he was and started asking him about playing with Chuck Berry. He answered questions whenever we asked and we found out a lot about those times and how he had helped Chuck Berry with writing his music but never received credit for it. Most people would have been upset, bitter even. But not Johnnie Johnson. He never showed any ego, or bad feelings, never bad-mouthed Chuck Berry. He was just Johnnie. In fact, one of our dispatchers, Gary, asked Johnnie to play at his wedding in 1985 and Johnnie did it for him. That's the kind of guy he was.'"

The entire book reads similar to this. Bad fortunes hit, Johnson takes a positive approach to life, and keeps on living through his piano and the music, keeping his accomplishments on the sideline and just living day to day, hour to hour. Read about how he meets Chuck Berry, starts working with him, co-writes songs with him and gives Berry the distinctive sound that makes him famous. And how fame manages to elude Johnson at every corner.

There are a few books I really enjoy and can read over and over again. Usually, unless I'm really into the subject (like a book on The Clash), normally my attention can't be kept throughout a near 400-page book about a character I am unfamiliar with. This book is different, however. Like I said, Fitzpatrick writes in a nature very similar to Johnson himself. It is down to earth, friendly, and informative, allowing you to make your own judgement while informing and entertaining you, and never really forcing an opinion on you.

I started reading the book and was instantly hooked. I couldn't put it down. Even when I didn't have the time to read it, I did. When there was a pile of other things needed to be done, a list of phone calls I needed to make, and things to do, I put them on hold because I was so wrapped up in this book. I came out with a whole new appreciation for rock 'n' roll, and especially Johnson himself.

This book is nothing short of marvelous. Quite entertaining, it won't waste a sentence on you. Line after line, chapter after chapter, you'll be hooked from the get go and be submerged in it. Read while listening to the music, read at night prior to sleeping, during the day when you need to come down from a stressful day or whatever. Just read this book, because you'll truly be on to something great. I'll give it an A+.