INTERVIEW: OtherStarPeople
CaliPhonic Pop for the New Millennium (OtherStarPeople's website)
By: Alex Steininger



If you want to learn how to avoid being pigeonholed after leaving a successful band, talk to OtherStarPeople's Jennifer "Precious" Finch, former bassist for L7, who left in 1996 to expand on her other musical interests. And just as L7 broke ground in the 80's and 90's with their strong-willed girl rock, Finch's new project succeeds in breaking ground and re-inventing pop music as we know it.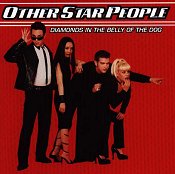 Switching to rhythm guitar and co-lead vocals, along with songwriting partner Xander Smith on co-lead vocals and lead guitar, OtherStarPeople deliver crisp, refreshing pop aplenty on their A&M/Interscope debut, Diamonds In The Belly of the Dog .
Completing the line-up is Junko Ito (bass), who Xander met at a coffee shop, and former Juliana Hatfield drummer Todd Philips. Together the quartet puts their heads together, bringing in their diverse backgrounds and experiences, as well as musical influences, and manages to come out with a screaming, sunny, and warm sound that is equal parts punk, Glam, rock, pop, and California (hence the 'CaliPhonic' label they have garnered).
"It's the pop of the new millennium," remarks Xander when asked about the band's sound.
"Our style is a coming together of many different styles. It's all about good songwriting," furthers Precious.
And both couldn't be closer to the truth. A close examination of Diamonds In The Belly of the Dog finds the band delivering the goods and then some, crossing genres and musical paths, while blazing their own trails.
"Drip" tackles the dark issue of drug abuse with charming wit and intelligently driven pop melodies; "I Could Never Be Wrong" catches you off guard and jars you with its half Glam, half modern rock crunch that brings everything back into the picture with cutting edge pop; "The Half Of You I Love" swarms with love and bright pop; and "California Shine" buzzes with palm trees, beautiful people walking the streets, and a glitzy night life. All while a song like "Blown Away" swims around in your head with its crisp production, edgy feelings, and sun tanned pop structure.
Adding to the sound is Precious and Xander's girl/boy partnership, which drives the band. Their voices work in unison, adding luxury to the songs as you get both perspectives on the issues at hand. Precious' sweet, sexy voice softens the blow of the edgier Xander, balancing everything and giving it that much more force to thrive on.
"In a lot of bands, it feels weird for one person to write the songs and another band to sing them. But not here. We split a lot of it. In the filtering process, it just feels like it belongs to everyone. One person will write the lyrics and everyone feels what they've written. Of course, some parts are more personal than other parts in the songs, but for the most part, everyone is able to feel it and really get into it," explains Xander on the democratic songwriting process of the band.
"You know how when you hear a song and you can just feel it and think they must be singing the song about you? A lot of the songs are like that for each of us," furthers Precious.
"I've been writing a lot of songs about this girl named Melinda at the donut shop where I go. All the songs are all 'Melinda' and I don't care. One song is in Precious' range, so she'll have to sing about Melinda," jokes Xander.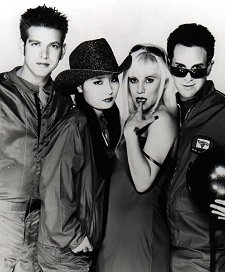 Though, there was a time when jokes seemed out of place. Completing their debut in the summer of 1998 for A&M Records, the Universal merger soon found the album shelved and the band's future very uncertain. But, with hopes still riding high, once the dust settled, OtherStarPeople was one of the few baby bands to remain signed. Moved to Interscope Records, Universal's 'alternative' label, Diamons In The Belly Of The Dog saw the light of day in August of 1999.
"I had already been through corporate mergers with L7, so I wasn't really scared. All industries go through this. Whether it's the steel industry or whatever, they always occur. So, you just have to do what you always have and just keep going," explains Precious. "After going through this merger, though, I felt like a red headed step child of Interscope's."
Though, Xander is quick to admit his fear: "I'm the kind of person that lives in fear all the time, even if everything is perfect. So, I'm always afraid of the future and the mergers."
Now that their debut is out and they've had some time to tour in support of it, what is in store for OtherStarPeople?
"It would be nice to make a live sounding record. Something that makes more sense for us, since we're a live band. The sound on the record and the sound on stage sounds different to me. Though, fans and critics are always coming up to me and telling me it's the same but faster and harder, and they really like it. So, I don't know," explains Xander.
Adds Precious: "We're going to definitely take [our style] in a different direction. Make it rock more, but still make it pop enough for ex-members of The Cars to play on it."
"'Drip' is going to be remixed and we're going to get back on the road. We're also going to be playing a Blind Date party for the show Blind Date. They're meeting and coming to see us play," furthers Xander on the band's immediate future.
And where would they like to see the band in a year?
"I would like to see us have more exposure. Most people get into live rock 'n' roll to play in front of a lot of people. And we're no different. But, I think we're doing something original and new, and I would like to see us get it out there in front of more people and to play in front of bigger audiences," explains Xander.
But, Precious is quick to jump in with something a bit more relaxing: "The Bahamas!"
Sunny weather and good music! I'm right there with you Precious.