Cool King Chris
Heard It Before (JAM Records)
---
The Lolas
Ballerina Breakout (JAM Records)
---
The Tonies
Daily Dose (JAM Records)
By: Gary "Pig" Gold



Over a decade ago, Jam Records was known primarily as the in-house outlet for the positively prolific (and then some!) one man band Jeremy Morris. But lately, this little label has quickly been growing into one of the world's leading proponents of all things True, Trusted and most definitely Good in musics. This here trio of fine-indeed releases just proves this point further, as each are perfect examples of just-left-of-center jewels -- the kind which, sorrowfully, all too often disappear through the cracks out there in Major Label and Radio Land.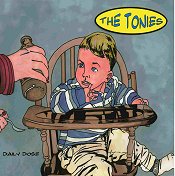 The Tonies' DAILY DOSE, for example, is jam (sorry) -packed with tons of fun, fast, and usually even furious bursts of Buzzcock-worthy punky-pop, with "Pop Icon" especially a genre-busting (as in rockabilly through Ramones!) little stunner demonstrating, beneath all its boisterous bravado, a true mastery of the Pop form in its many splendored thingery.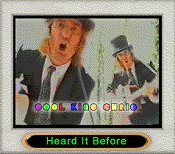 HEARD IT BEFORE stretches things even further Out There with its phase and pan-happy, dayglo glops of slyly sonic shenanigans. Why, "Everything's Alright" is one deep curried delight which wouldn't sound a speck outta place on the Monkees' HEAD soundtrack (high praise, in more ways than one), while "Oh No, Here She Comes" joins Andrew Gold and Jeffrey Foskett in the race to write the Great Lost Turtles B-Side That Never Was. Cool King Chris? You ARE one cool king!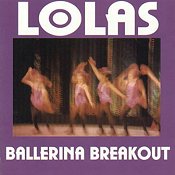 But the true blue treasure of this digital threesome just must be BALLERINA BREAKOUT by The Lolas. FINALLY, here is a record that not only understands, but honestly embraces and exploits that oft-mishandled bridge between the most cutely melodic of mid-Sixties pop ("Skating Rink" could actually become part of Herman's Hermits' canon, I kid you knot!) and the crunchy-guitar urgency that's underpinned only the best of rock 'n' roll ever since ("Don't You Wanna," "Goodbye Rose," and especially "I Became Somebody Else" are pure hard-pop ravers that just beg me to attend a Lolas concert appearance --and quick). Elsewhere, "Sophia" is the kinda tune Pete Townshend hasn't been able to bless us with since about 1968, and head-Lola Tim Boykin's utterly gummy vocal washes bring a shimmering sense of buoyant big fun to, mentioning just a few, "The Best Part," "Otaku," and the utterly astonishing title tune itself. Why, speaking of chewy chewy, these guys aren't even afraid to cover an Archies tune -- my FAVORITE, in fact -- "Feelin' So Good"!
I hereby say: Watch out for The Lolas throughout Century 21, believe you me, and yes, Thank You Jeremy Morris for continuing to bring such uniformly fine, fine sounds to us discerning consumers everywhere. You are, without one single doubt, THEE Prince of Pop.