Eiffel 65
Europop (Republic/Universal)
By: Alex Steininger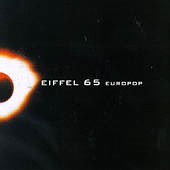 Italy's three-piece dance-pop act Eiffel 65 serve up the same dance-pop that you always here on the top-40 radio stations track after track. Another boy band doing what is selling, this album has slick production, is clean, danceable, and filled with boring pop hooks - perfect for the teeny-boppin' masses to jump on and enjoy for a few weeks until N'Sync's new album or the next fad comes their way.

It's been done before time and time again, especially in the past two years, since Backstreet Boys, Britney Spears, and N'Sync have made it all the rage. When are labels going to stop signing and developing these acts, you ask? Never, as long as they sell. Will this sell? Probably... It's got all the goods little girls look for in their top-40 boring dance-pop. Does it have talent, though? No. I'll give it a D.