Love-Cars
I'm Friends With All Stars (No Alternative)
By: Alex Steininger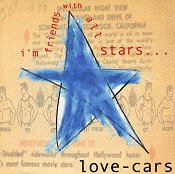 Pop music. Pure and simple. That is what this CD is. I'll say it again; it's pop music. But, you know what? That's a good thing, because Love-Cars write great, strong, infectious pop songs that will sleep in your mind and move in your body, giving you a push when you need one, and comforting you during the times you need that. The lyrics are solid, the songs are grand, and the band has talent. What more could you want?

"24" is a sleepy pop dream that floats in the mist and helps relax you. "Ultimate Goodbye" jars you back from your comforting slumber and jumps you on your feet with nailing drums, shaking guitars, and a meaty rhythm from the bass, all with the pop sensibilities and shiny hooks the band always sends flying.

"Call Me Sometime, Best Friends Forever" is another example of the band's rock appetite that, no matter how rocking they get, never leaves behind the enjoyable, hooking pop foundation the band builds on throughout. A bit quirky, a bit straight-forward, this power-pop nugget shakes and stirs with plenty of action.

"Lullaby for Jerks" is another slumber-inducing, friendly pop song that is tender and warming, as well as inviting. You'll sit back and smile as the gentle, subtle hooks and easy-going rhythm crawl, slowing moving and soothing you at the same time.

With modern rock all the rage, it seems a good pop band is hard to find these days. But, low and behold, here one is. Ten solid tracks and not one is a clinker. All are stand out, solid cuts that you'll enjoy many times over. I'll give this album an A.