Eric Neves
Country Bar (Musick Music)
By: Alex Steininger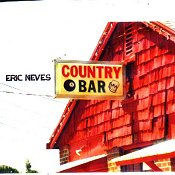 Spending his fair share behind the kit for a few bands that were on the verge of something bigger and better, with major label interest and all of that hoopla, in the late eighties and early nineties, Neves has since moved on to a more "stable" way of life, working his nine-to-five, paying bills, and playing music mainly for himself. Recording at home on an eight track, Neves moves from behind the kit (occasionally stepping behind it), playing all the instruments and wearing his heart of his sleeve. Dishing out nineteen tracks of tender acoustic country, hot-footing bluegrass, and everything in between, Country Bar takes country music back to the time when it was pure and real - not just slick studio production and pop crossover hits throughout. This isn't Nashville pop by any means; it's the real deal from a country boy who speaks through his music.

"You Don't Know" is as real as they come. Neves voice is anything but spotless. Riddled with errors and emotion, it comes across so honest and pure, you know you can trust it and be comforted by it. "Jenny Girl" has one of the worst vocal tracks on the entire album, with Neves often losing his voice while trying to stay in key. But it is this imperfection that makes the music so vibrant and lively. Instead of washing everything down by re-recording the same track a zillion times and then cutting and pasting until it reaches 'commercial viability," Neves says with the honest, back porch, down-home charisma that characterizes the album and never abandons it. A spicy bluegrass inspired piece, he'll quickly have your feet moving and your body shaking to the guitar.

"From This Mountain" offers up some drunken country vibes as Neves hits the record button and gives you something to groove to as well while "Turn and Walk Away" once again brings us the soft acoustic guitar and the tender voice that summarize this album. Pure emotions, hard working, blue collar, honest man's words with a gentle, relaxed guitar helping the voice come to life. "Bitter Tears" will nearly bring you to tears. And "Tell U What I'm Gonna Do," with it's down home, toe-tappin' beat will have you stomping your feet in accompaniment. Then there is the heart break of "Not Welcome Round here," in which you'll feel every note and word that resonates throughout the song.

Neves bare bones, hand to mouth songwriting and exposed heart singing give the songs both the fuel to go and the face to be visible. Rather than do everything until the feeling is gone but the songs are perfect, Neves goes straight for the feeling, laying it down and when everything feels right, that's when it is done. And with that in mind, he crafts an album like an open wound: it sits there and is visible to all, oozing and gushing. I'll give it a B.