William Orbit
Pieces in a Modern Style (Maverick)
By: Alex Steininger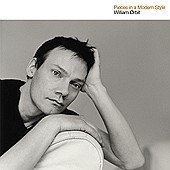 England-based ambient-house artist/writer/producer William Orbit's debut solo album, Pieces in a Modern Style, is a collection of eleven interpretations of his favorite classical pieces. Soft, sophisticated, and tranquil, as you sit and listen, you can't help but close your eyes and let the music develop your dreams.

From Samuel Barber's "Adagio for Strings," Erik Satie's "Ogive Number 1," and Antonio Vivaldi's "L'Inverno," to George Frideric Handel's "Xerxes", Orbit creates placid music that is surreal and delicate, taking your mind to a place of happy thoughts and tranquil dreams.

Orbit acted as arranger, programmer, producer, and performer of this album, which makes it that much more amazing. A talent in his own right, Orbit's renditions of these classical pieces set him at the top of his genre and establish him as one of the most vital ambient-house creators of present. I'll give this an A.