Pure Drama
3:33 (self-released)
By: Alex Steininger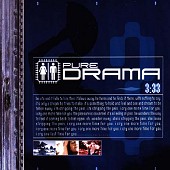 Fusing electronica and Goth music, Colorado's Pure Drama dream up a visionary sound that is moody and dark, deep and passionate, while still danceable and enjoyable. On their demo release they manage to reach this dream with three tracks that find the band on a promising road.

"3:33" shoots right at you with its rapid fire drum beats and eerie keyboards while fear and pain are conjured up through the deeply dark vocals of the male, Ryan Policky, and the seductive interplay of the female vocalist, Becca Gomez. "The Light" finds the band making you dance even more, this time leaning more towards the electronica through the music, while bringing the Goth into the picture with the vocals.

This band may not be the tightest, and some practice and more songs under their belt may just be the key. Any way you look at it though, they're on the road to success with a dark, passionate sound that is as moody as it is danceable, perfect to sit down and think with or to, well, dance with. I'll give it a C.