Sonique
Hear My Cry (Republic/Universal)
By: Alex Steininger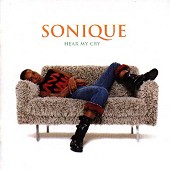 Britain's Sonique, a DJ with quite an established resume, has taken her skills around the globe, entertaining dance floors in locations ranging from the U.K. to Germany, Hong Kong, the U.S., Jamaica, Norway, Italy, Australia, and Ibiza, to name a few. On her debut full-length, things go wild and the atmosphere gets crazy with the sounds of Sonique.

The album's first single, "It Feels So Good" quickly gets you spinning with its fusion of dance pop, electronica, and infectious grooves, while "Are You Ready?" lets the funk roll, and "Drama" hits you with some smooth R&B vibes. "Move Closer" sends you reeling with a lively, can't miss dance beat. And then there is the title track, a cut that you hear clubs playing over and over again as their patrons go crazy for the grooves and moves the song serves up.

Throughout every song, Sonique's sultry, commanding voice takes center stage, putting a smile on your face while it pumps your body and pushes you to the limits, demanding you get the songs your all and move as much as you can to the music. This isn't second rate anything, and as such, it demands its listeners don't give the music a half-assed response. A perfect union for the dance fan who wants to move, shake, and sweat until they drop. I'll give it an A-.