Tony Stouffer
One Swell Foop (Absolute Obscurity)
By: Sonya Brown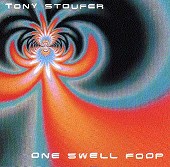 One Swell Foop is the electronic cd just released by Tony Stoufer. This is certainly not a style of music that I normally listen to; but I found it an agreeable variation from my normal listening traditions with its well thought out combinations.

One Swell Foop is a contemporary work, and it lends itself well to creating a soothing listening ambience. Especially the more ethereal tracks such as "Artifacts", my favorite track on this CD. Tony states, "I hope music like this can be looked at like a stand alone piece of art. Like a painter who works on the painting until it's done, then moves on."

I asked Tony about the mood he tries to create with his music, and some of the specifics involved in creating a CD such as "One Swell Foop". He replies, "Now this is where I take a different approach to other people. When I start a new song I will pick at random about 15 floppy disks full of samples I have saved or made and put them all into my sampler and then start scrolling thru one by one till I find a pattern or loop I like and start building upon it with other odd samples to get the initial groove. At this time I will add the chordal elements then several different scratch melodies. When I have 3 or 4 sections, i.e. verses/chorus/ bridge/solo complete, I work on the arrangements until it works for me. This is where I feel a lot of other electronic musicians fall short . I can't understand why so many people think that 1 drum loop with some strange sounds over the top means they have written a song. With each of my songs I spend up to 4 weeks cutting, chopping, adding parts, deleting parts, mixing volumes, panning and doing whatever it takes to get it to sound right to me. A lot of times what I started out with is not even in the mix when I finally mix it down to DAT tape. When it is done, I start a new song Idea right away and try to keep the creativity going, but in a new direction."

Tony indicates that his influences may be hard to pin down, but states "I would say Todd Rundgren would have to be my first major influence, then Thomas Dolby and a band called Ultra Marine. When I started writing music I played guitar, then keyboards.and slowly moved to playing mostly keyboards, (synth, Samplers, and sound manipulation) . I became bored with guitar and found that, for me, working with a computer using sequencing programs was much faster to realize the music I was hearing in my head. I play all the parts into the computer using up 16 midi channels (that is 16 separate instruments) I really don't want to attempt using more than that so I won't lose focus on the music. Most of my songs use all 16 channels. Several people have said my music sounds like William Orbit. But Ironically I hadn't ever heard him until six months ago and I do see some similarities.That was very strange."

A lack of vocals often makes me think "background music"; however I found One Swell Foop to be a modernistic piece of work that is different from the commonplace, and well put together.

Real audio samples of One Swell Foop are available at Yourmusicscene.com, TheOrchard.com, Cdnow.com and Amazon.com.