INTERVIEW: Pinehurst Kids
Unforgettable Fuzzy Power-Pop (Four Alarm Records)
By: Alex Steininger


Portland, Oregon-based power-pop quartet Pinehurst Kids are flying high off the release of their sophomore album, Viewmaster. A crunchy, high-octane combination of sincere, powerful lyrics and undeniable hooks, Viewmaster is helping to expand the band's fan base through heavy rotation on college radio (currently #11 on the core 50) and constant, non-stop touring.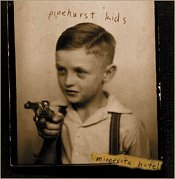 Originally a three-piece, the band recently added second guitarist Devin Morrow to fill out their live sound, as well as drummer Marnie Martin, who replaced Robler Kind, drummer on both of the Kids' releases, Minnesota Hotel and Viewmaster.
"I had never heard of them before, but my friend mentioned they were looking for a drummer," explains Marnie on how she landed behind the kit for the Kids. "They found me, called me, and we hooked up and had a few beers and jammed. I saw it as a great opportunity to work with a different kind of band, and that's what I've always wanted to do."
"I do booking at the Tonic Lounge and Marnie got hired there," states Devin, sharing his story on how he ended up with the band. "Marnie and I had previously jammed together way back when and I had always wanted to play in a band with her - I have great respect for her playing. I had met Joe and Cal a few times around town and whatnot. Then I heard they were looking for a guitar player to fill out the mix and I dropped my name."
Frontman Joe Davis is quick to add: "I talked to Devin for ten minutes, twenty minutes - It was probably longer - at the bar one night and I said I was looking for a guitar player. I wanted to find out if he knew anyone. He was like 'I don't know of anyone off hand, but I'm kind of curious about it'. Then we talked about it and I realized we could actually converse about music, and I got a really good vibe about him. And that's the most important thing. I mean, people can buy the shit and learn to play it, but that doesn't mean you're going to be able to get along and create music together."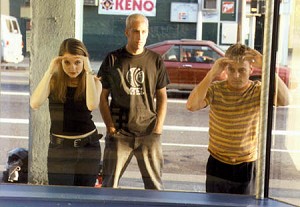 The Pinehurst Kids story is a slow, steady journey starting with the self-release of their debut album, Minnesota Hotel in 1997. Placed on consignment around town, and with both local opening slots and headlining gigs to support its release, the band developed a loyal following.
With Minnesota Hotel receiving good feedback from those who heard it, the Kids landed a slot at Austin's South by Southwest in 1998, where they met up with Four Alarm Records, who wanted the band to do a song for their Go-Go's tribute album. From there, Four Alarm asked the band if they had a label. After realizing they didn't, the negotiations started and the band soon found themselves signed to Four Alarm.
With Viewmaster already in the can by this point, Four Alarm initially wanted to re-release Minnesota Hotel in January of 1999 for a few months to set-up the forthcoming Viewmaster. But, with the original, self-released version only available via Portland-area stores where the band had put the release on consignment, and at their live shows, Four Alarm decided to keep the Minnesota fire burning and put the Kids on the road to support it.
Landing on the cover of CMJ's weekly trade magazine, Minnesota Hotel slowly rose on the charts while garnering high praise from print media. With a national audience just beginning to get exposure to the Pinehurst Kids, Four Alarm kept them on the road and decided to keep pushing the album, delaying the release of Viewmaster so Minnesota Hotel could run its course.
They had a new record ready to go, but were just beginning to tour in support of their two-year-old debut. It wasn't what the band wanted, but with Minnesota Hotel reaching a wider audience for the first time and garnering national praise, the band held tight and waited for the release of Viewmaster.
"There was definitely a learning curve there," furthers Davis. "I think the best thing that helped me was, I looked at a Built to Spill record that came out right when ours did and they did the basic tracks for Keep It Like A Secret in 1997, and that's when we released [ Minnesota Hotel ] and then it got re-released in 1999, right when theirs came out. So, I guess that is the way it goes."
After a year of on-and-off touring and increased exposure, Viewmaster saw release in February 2000, backed by national distribution, extensive college radio airplay, and cross country touring.
"It was initially very frustrating for me," Davis states honestly, "because I worked my little songwriting ass off to get that record ready to go and then I had to kick and scratch to get us into the studio. Then we did the record, were really happy with it, and sat on it for awhile."
With a new, hopefully permanent line-up, months of touring ahead of them, and a new album to expose to the world, the band must be pretty happy?
"I'm just getting into the tunes and really excited to play," smiles Devin.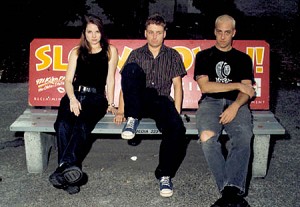 "I will not be satisfied no matter what," bassist Cal Gates says with a serious demeanor. "If we make the top ten of college radio, I'll want the top five. If we make the top five, I'll want number one." Though, his expectations are simple: "I just want people to hear it and like it, and buy it."
Marnie is quick to agree with Devin. "I think it's exciting. I'm really stoked."
"My biggest regret about Viewmaster is that I had to conceive a lot of it by myself in a certain sense. I don't think that will be a problem now, and that's exciting to me," offers Joe proudly.
And how does the band feel about Minnesota Hotel versus Viewmaster?
"Sonically, Viewmaster is a much more intentional record. We made decisions on how it was going to sound," states Davis. "I think there is a more abstract quality to some of the songs on Viewmaster that lead out of Minnesota Hotel, so the theme is extended. There is definitely a consistency there. It's like a 1-2 punch.
There are songs on both albums that are intensely personal for me. But, the difference is that on Minnesota Hotel it's more literal, whereas on Viewmaster it resonates with me, but only because it's really abstract or insane."
Now that the band's line-up is solid and ready to go, they will concentrate on touring and promoting the new record. Though, Davis is already looking towards the future, and more specifically, the band's third album.
"I kind of waited for things to settle in," confesses Davis. "And now that it's there, I have like four ideas started and I actually intend on writing more songs for this record than the other two, because I want to be able to choose."
With months of touring ahead, and a third record already being conceptualized, Davis and company are in it for the long haul. And, the future looks bright for them as they hit the road and watch as night after night, new fans discover them.