INTERVIEW: Eight Questions for Robbie Rist
By: Gary "Pig" Gold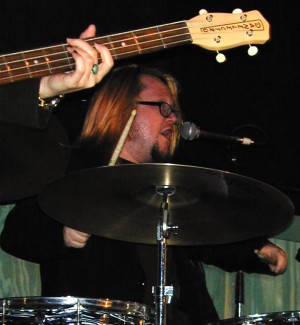 After wandering the wilderness of the entertainment business for nigh on thirty years now (almost as long as Moses!), Robbie Rist has finally settled in to a life of almost no leisure and even less financial stability. He has played and/or produced music with some of the finest musicians (in his humble opinion) to ever play the game (--like? Wonderboy, Cockeyed Ghost, Kyle Vincent, Martin Luther Lennon, Wondermints, Paul Collins Beat, Merrymakers and many more), as well as playing guitar and singing with acclaimed -- and quite popular! -- pop and roll group, The Andersons. This year will see the release of a new Andersons record ("Family Secrets") plus the Rist-produced debuts of both The Masticators (on To M'Lou Music) and Rockabilly Hall Of Famer Ronnie Mack. When he isn't recording bands, producing music and directing voice-overs for the personal greetings website MixMe.com, or chowing down big ol' pork chop breakfasts at the local IHOP, The Man They Call Rist can often be found contemplating many of the larger mysteries of the Universe, such as--

1. "Munsters" or "Addams Family": Which one's for you, and Why?

Addams Family. Darker. Kookier. Ookier. And besides, when she reaches legal age, Wednesday is MINE!!!!

2. Who in the world, besides my wife, would you most like to play a game of "Twister" with?

Hmmm. Twister. That game always seemed almost like exercise, so I can honestly say I probably wouldn't be caught dead playing it. However, if it came down to it, it would be a four-person, clothing-optional game consisting of myself, Sela Ward, Lisa Mychols (of those Masticators), Susan West (from SparkleJets U.K.) and a five gallon jug of 10W40 oil.

3. How many Sid King & The Five Strings records do you own?

I have a Count Five record, a Dave Clark Five record, "Seven and The Ragged Tiger," and I used to be in a band with Harvey Sid Fisher. Is that what you meant?

4. Got any good Maureen McCormick stories?

Nope.

5. "Ginger" or "Mary-Ann": Which one's for you, and for How Long?

Mary-Ann, of course. Ginger appeared to be a bit too "high maintenance" for my taste. Plus I have always been more driven to tomboys (Joan Jett, Lisa Mychols).

6. What single song, living or dead, do you most wish you'd written-- and Why Didn't You?

Gosh, it would be a multi-way tie between "Love Grows Where My Rosemary Goes" (Edison Lighthouse), "Last Game Of The Season" (David Geddes), "My Sharona" (The Knack), and "It's Late" (Queen). And I find it awfully presumptuous on your part to even imply that I DIDN'T write any of these! I mean, c'mon... I've been alive forever. AND I wrote the Very First Song. So there!

7. Whose drum kit would you most like to be reincarnated as?

Clem Burke's. The punishment would be worth every second.

8. In 2000 words or less, Your Hopes, Aspirations and Goals, musical and otherwise, for your life and your country?

To start a cultural revolution based on the precepts of melody, tolerance, passionate sex and uncontrollable laughter (not necessarily in that order). Oh-- and to get Doug Fieger to wake up from his coma and realize that I alone should be playing drums in The Knack!