Millencolin
Pennybridge Pioneers (Epitaph)
By: Alex Steininger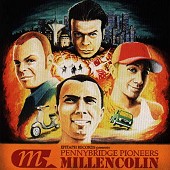 Sweden's Millencolin is back with their third Epitaph full-length, Pennybridge Pioneers. Instead of going the route of ska-pop-punk as they've done on past albums, Millencolin focuses on pop-punk from start to finish.

"No Cigar" revs you up with a pop nugget wrapped around a blast of punk. "Fox" continues with a highly addictive, sing-along pop-punk number sure make you dance with its groovin' rhythm section, hook-laden guitars, and the love story behind the song. "Right About Now" beats straight to the point, wasting no time in reeling you in. Hitting you with buzz saw guitars right out of the gate, and then slamming into with rapid fire vocals, you're floored as they drag you along for the ride, hooking more and more with each note.

This is the typical reaction you'll have throughout this album. "Hellman" is pure pop-punk fire, "Devil Me" blasts through more pop-punk territory where power and melody are best friends, and "Pepper," complete with loud, fuzzy guitars and a slamming rhythm, knocks you down before picking you up and making you a fan. Closing with "The Ballad," an acoustic ballad with an electric tail end, the band proves to be more than a one trick pony, touching you with the soft ballad about a loser who everyone mistreats and ignores.

Their best album to date, Millencolin prove to be an international pop-punk sensation. Already winning over crowd after crowd overseas (where they're at near-rock star status), the previous two albums on Epitaph are a good set up. But, this album will surely win over the Epi-skate kids, if they aren't already fans. I'll give it a B+.