Nerf Herder
How To Meet Girls (Honest Don's)
By: Alex Steininger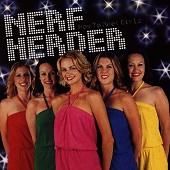 Whatever happened to that loveable pop-punk band who came out of left field, stunned the MTV world with their catchy-as-hell hit "Van Halen," before fading into oblivion never to be heard from again? Well, Nerf Herder's back with their sophomore release, How To Meet Girls, an album that exceeds their debut's catchy-ness and ability to make you laugh.

With songs like "Courtney," an ode to the oh-so-loveable Courtney Love (who doesn't have a crush on used up rocker women, anyhow?), "Pantera Fans In Love," "5000 Ways To Die," and "Pervert," Nerf Herder proves they were never a flash-in-the-pan, but rather a cleverly amusing and quite humorous bunch of geeks who write catchy pop-punk who can make their listeners forget about the trials and tribulations of life for awhile while they submerge themselves in the geekdom of Nerf Herder.

"I saw you in a movie about pornography/ You were looking pale and kind of saggy/ I must say it made me woozy/ When you fucked Woody Harrleson in the Jacuzzi/ You wore grungy clothes/ Than doctors fixed your nose," rings once verse of "Courtney," the band's first single. And, rumor has it Courtney found the song amusing, a much better reaction than Sammy Haggar ("they're a bunch of faggots") gave the band after hearing "Van Halen."

Lines like "Saw you on the bus laughing with your pretty friends/ I was in back with the retarded kids/ Tried to say hello at the high school dance/ Then I went my pants" from "Lamer Than Lame" deals with the topic of rejected and not being cool enough for the pretty girl to pay attention to you, all in tongue-and-cheek fashion. While, "5000 Ways To Die" tackles suicide with as much punch, fury, and hope wrapped around humor as possible: "There must be 5000 ways to die/ And each one ends the same way if you try/ Your friends all stand around/ While they dump you in the ground/ And the people who love you ask 'why, why, oh why'/ And the bastard you hated the most/ Will stand up and give you a toast/ He'll say, 'We were such good friends, especially near the end/ Then he'll feel up your girlfriend in front of your ghost".

Of course, the ode to metalhead love, "Pantera Fans in Love" is not to be missed. "We went to Sears for pictures at Christmas time/ But they wouldn't let us make the metal sign" and "What's with these punk rock nerds?/ They can't even sing/ I wish we never heard of The Offspring" are just two of the dozens of clever lines in this song that will have you rolling on the floor, laughing hysterically.

Just when I was ready to write off pop-punk as a dead sub genre, Nerf Herder pumps plenty of life into it with humor, tongue-in-cheek romance, and plenty of shots at the stupider things in life. Gosh, I wish my countless rejects and heartbreaks helped me pen pop-humor nuggets like this. I'll give it an A-.