Osker
Treatment 5 (Epitaph)
By: Alex Steininger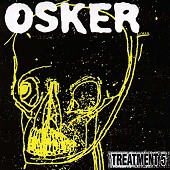 The majority of the songs on this album were written at age 16 by singer/guitarist Devon Williams. Two years later, after passing on a tape to his friend at Epitaph, Williams found himself signed, the center of attention at school, and in the studio recording Osker's debut full-length. The outcome is Treatment 5, eighteen tracks of blasting, furious, quick punk rock songs sure to make you have faith in Epitaph and punk rock in general, once again.

"I Cannot" rings with its "I cannot, I can't do anything at all" chorus drenched in doubt and frustration, while backed by punk rock bursting with melody, intensity, and fury. This isn't your run-of-the-mill teen angst manifested into screaming. Rather, as "Dying" proves, this is punk rock from a punker beyond his years: "I know myself, I know I think I'm so sick of people and I don't know why. See, I just don't have patience for them. And I really think I can make it on my own." The confidence, the power, and the control shine throughout as they dish up lyrics that are insightful, dealing with young, heartbroken love, the confusion of being a teen, and life in general.

But, being young, the teen angst still shines as they lash out with anger and vengeance on cuts like "Ballad of a Traitor," proclaiming "Thanks for being a fuck. I hope you drowned in your own vomit." Then they get serious on the following track, "Alright," speaking the minds of so many teens who don't have the courage to come out and state, "I'm uncomfortable with myself, and your put-downs just do not help. The outcome is I feel like shit. Don't know when to quit?".

The album is chalk full of strong-willed, outspoken cuts, self-doubt, contempt for the world, and everything that can go wrong. But unlike all the other albums released by teenagers with the same subject matter (and 'adults' for that matter, too), the lyrics jump from obvious angst from a 16 year old to lyrics you would think a 30 year old wrote looking back with a discerning eye on his youth.

"Panic," "Life Sucks," "13," "Lucky," "Fuck Me," "Asshole," and "Radio" are just a few of the eighteen tracks on this album that will blow your mind and make you take notice of punk rock again. If you're burnt out or tired of the dime a dozen punk acts out there and want something good and energizing, Osker delivers. It revitalizes your faith in Epitaph, too. I'll give it an A.