Simon Stinger
Devil On My Mind (Simon Stinger)
By: Alex Steininger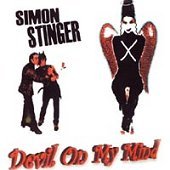 With a seductive, rock 'n' roll frontwoman, and ferocious support from the band, Simon Stinger shoots right out of the gate with slight-Goth punk 'n' roll. Similar to the new wave/punk scene that cropped up when it was about fun and not making a tired statement, with some Goth tendencies, Simon Stinger unites punkers and Goths alike with their 'fuck-to-this' sound. Their debut CD, Devil On My Mind, is wicked, crisp, and balls-y. It'll make your blood pump and your body shake.

Starting off with a Devo cover, "Girl U Want," the guitars roar and the rhythm section beats the shit out of their instruments while they give you blood-dripping rock 'n' roll excitement to run with. The frontwoman's voice is kinky and alluring, turning you on and making you follow it everywhere it goes. "Dead On" follows with even more rock 'n' roll for you to feed on. The guitars screech and roar, buzzing in your ears at top volume and driving the intensity level through the roof, while the dynamic rhythm section drops the bomb on the sound and blasts out with heavy-hitting, free-flying grooves that floor you.

"Hollywood Ending" gives you a taste of the band's Goth side, serving up a rock-injected Gothic installment. Creepy, dark, yet still alluring and sexy, the band lures you in with its mysterious essence and untamable presence, before sweeping darkness over your eyes and taking you on a ride you'll never forget.

"Swimmin'" hits you with more straight-ahead punk 'n' roll, "Go Sugar" is sweet and hard, and "Ain't It Strange" is a hook-laden, buzz saw rocker that is as quirky as it is fierce. "Tomorrow It's Gonna Rain" is pure new wave, equal parts Max's Kansas City and 80's synth-pop. The synth dances around, the vocals cut you with their razor sharp words, while the rhythm section keeps things fierce and pounding.

Capturing the energy and attitude of the 70's new wave/punk explosion, the dynamics of Goth, and a bit of the quirkiness that the 80's brought us, Simon Stinger stings you right in the ass with their fearless rock 'n' roll brawling. Here is one of the bands out there keeping rock alive, and I think they deserve props for that. I'll give it an A.