Snuff
Numb Nuts (Fat Wreck Chords)
By: Alex Steininger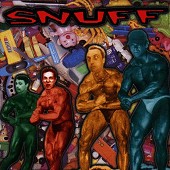 Snuff's latest, Numb Nuts, is a lackluster attempt at the pop-punk grounds they helped pave the way for. With twelve years of releases under their belts, it seems father time has caught up with them. Giving a less than impressive performance, Numb Nuts seems to be just another pop-punk album in already crowded line.

One thing I can say nice about this album, though, is that when every other band on the planet is adding horns and organs to their songs and over doing it, Snuff knows the word 'moderation'. Never over using the trombone or the organ, Snuff uses the instruments to enrich the sound, rather than subtract from it.

After a decade of being a band, things are bound to fall and slip. It happens to the best of them. And, unfortunately, Snuff fall victim to the syndrome on their latest. Still decent pop punk that will grow on you, but it takes some time. And, even then, it doesn't really reach out and grab you. I'll give it D+.